corpo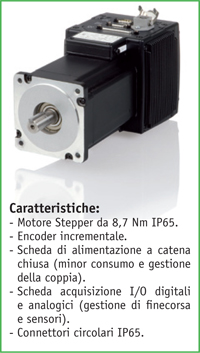 Motor: the movements of the tracker is carried out by means of a rack and worm gear with an electric motor that uses "stepless" logic ISD.
The ISD is a motor that includes movement logic, rotation feedback with encoder of 8000 pulses/revolution, acquisition card for I/O (limit switches and any sensors such as wind, rain, snow) and drive that controls the motor and moves it with acceleration and deceleration ramps that do not stress the structure and can handle shocks with the control of the torque delivered.
The PLC on board the motor directly manages the movement to track the sun through the solar function. Consumption: 6Wh!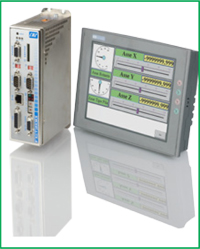 Electrical cabinet containing:
FCT200: Master controller that can control up to 12 axes with synchronized motion requiring the lowest possible power consumption.
SDPOWR: Power supply for ISD that allows to rectify the current and avoid peaks that can seriously damage the electronics.
MMPV070: VGA color touch screen terminal for parameterization.
Cables:
The cables are "solar" cables that withstand temperatures of -40 and +110 and the connectors are circular IP65.